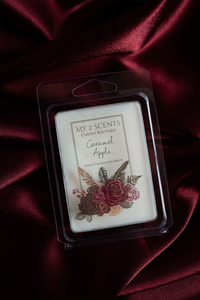 SCENT:
Caramel Apple, an iconic fall sweet apple treat! With notes of apple, sweet caramel and apple cider this melt will smell good enough to eat. This is a nice strong scent that will fill your space giving you fall festival vibes.
Top: Apple
Middle: Caramel, Apple Cider
Base: Caramelized Sugar, Spice, Sugar
 DETAILS:
2.7 oz (6 Pieces)
100% Soy Wax 
Hand Poured
Vegan, Phthalate free.